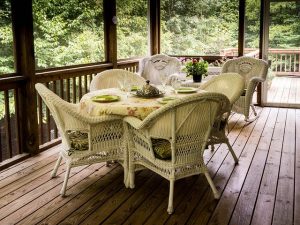 Adding a deck to your house can be a good way to add value and utility to your home. On an average year, there are millions of decks built or replaced. If the deck isn't built properly though, it could be unsafe or even dangerous.
There are many things to consider. When considering the load that the deck needs to be able to withstand, you need to think about the added weight a large group of people will add. If you were to place a hot-tub on the deck, the need for caution is even greater. The fact is that a full hot tub alone can weigh over 5000 pounds, and without proper support, this can spell disaster.
When it comes to decks, one of the most common sources of accidents is from failing railings. It is important that the railing is sturdy and attached well since there can be several people leaning up against it at the same time.